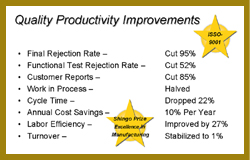 Career system . . .
for self-managed careers
Selection Process . . .
for new work culture
Leadership Development . . .
for aligned and accountable leaders
Research-based Hiring . . .
for selection and training of a
competitive workforce

Work Process Design . . .
for a high-performance organization
Teaming by Design . . .
for world-class performance
Organizations Reap Results
Posture Your Organization for Success
WorkStyle Patterns® (WSP™) Alignment builds a framework for shared understanding, constructive communication and competitive performance. As the nature of work shifts in the 21st Century, WSP™ Alignment becomes increasingly valuable to organizations dedicated to building exceptional workplaces.
A state transportation agency created an award-winning career system recognized by the "Governor's Award of Excellence." The system – designed by McFletcher and the Human Resource Development Center – emerged in response to a growing need to sustain a workforce in a state environment in which salaries and promotional opportunities were at a low ebb. Retaining skilled employees was critical.
Employees used their Preferred WorkStyle Patterns® (WSP™) Profiles to plan career goals that crossed previous job classifications, offering a broader range of career opportunities.
A defense industry production facility reaped the benefits from McFletcher's Work Alignment for the life of its five-year project. New hires generated value quickly with fewer costs. Employees assumed greater initiative and accountability. Product went to market ahead of schedule with record savings.
Members of a business unit of a global consumer product company used their Preferred WorkStyles to plan how to support and lead a rapid ramp-up of sales production. The company tripled in size within two years. and within five years its lensware product was a household name.
A leading national bank used McFletcher's Database results for selection and training, yielding the highest sales and service performance with the lowest turnover during a two-year period.
A national food service management company redesigned its work to quickly and efficiently integrate home office and field operations. Work requirements and WorkStyle Profiles were clarified for cross-functional process teams resulting in customer partnering and buy-in. Reductions in controls were achieved along with greater operational flexibility, new safety records and cost savings.
A telecommunications subassembly facility has consistently exceeded all financial and production goals since 1986, and earned many coveted quality and world-class manufacturing awards. McFletcher's Teaming by Design and work design processes were key to slashing process rejection rates by more than 66 percent, reducing work in progress by 50 percent and realizing savings on indirect labor with 1 percent employee turnover.
---
Contact us with your needs or questions:
mcfletcher@mcfletcher.com
(480) 991-9497 (US phone number)