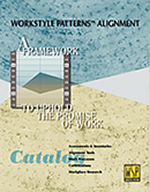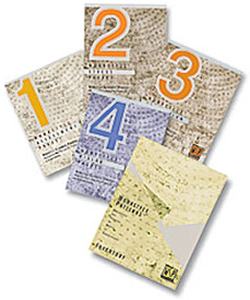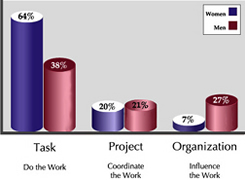 The Glass Ceiling: Through a recent McFletcher study, the above chart illustrates employer expectations of men to women who hold similar positions and levels of accountability.
(Click on the graphic to enlarge it.)

Experience WSP™ Online Inventories
(Click on the graphic)
WorkStyle Patterns® Process
Inventories, Products and Research
The McFletcher Corporation has authored and published numerous organizational, training and team materials, including the internationally respected WorkStyle Patterns® (WSP™) Alignment Process and Products.
WorkStyle Patterns® (WSP™) Alignment is a conceptual framework that offers a common language to discuss and design work, which makes it possible to fulfill the performance needs of both the organization and its employees. It moves beyond the "what" of work to the crucial "how" to accomplish work.
The McFletcher Corporation introduced the concept and practice of
Work Alignment
, developing the internationally validated and respected
WorkStyle Patterns® (WSP™) Inventories
in 1979 to assess and align the approach required to carry out work activities with the approach preferred by people doing the work. Members of the workforce worldwide have completed these self-scoring workplace/workforce alignment resource assessments ever since.
WorkStyle Alignment Packets translate self-awareness into improvements. Six workbook packets lead you through the next steps in the self-discovery alignment process – developing action plans that align preferred WorkStyles with the requirements of work.
WSP™ Software & Research Products, WSP™ Workplace Research and WSP™ Database Reports provide an aggregate view of your organization's WSP™ Inventory results and related demographics, which McFletcher tracks and monitors for you in a separate WSP™ Database. This pertinent research information provides cutting-edge knowledge and comparisons of your work environment with workforce and workplace trends.
The WSP™ Inventories (paper and on-line), their companion products and application processes and Windows-based WSP™ Profiler software program equip organizations to develop aligned work environments – matching the approach required to carry out work activities with the approach preferred by people doing the work.
These WSP™ Alignment products, processes and data are helping a wide range of organizations in a variety of industries and professions develop exceptional workplaces. Their goals are probably like yours ... to achieve market prominence, reduce costs, keep superior employees and improve quality and output. Like you, they demand results because success depends upon it.
---
Contact us with your thoughts or questions:
mcfletcher@mcfletcher.com
(480) 991-9497 (US phone number)