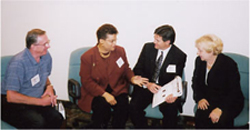 Dialog – David Bradley, Susan Van Buren, Bill Cohen
and co-author Donna McIntosh-Fletcher discuss the
design and content of the Work Alignment Dialog book
written by Donna McIntosh-Fletcher and Tomas McIntosh-Fletcher (not pictured).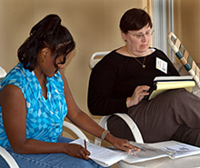 Data Applications – Tonya Scott, HR Director of
Barnett Corp., and Julie Knapp, consultant for Higher
Ground Training & Development, work together to
solve a hiring and training problem for a sales
department as part of their Certification.
Participants apply WSP™ data to real-life company
problems during the five-day certification program.
Learning Transfer – Donna McIntosh-Fletcher, co-author presents WorkStyle Patterns® Work Design Process during WSP™ Inventory Certification.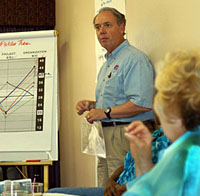 Smarter Hiring – Randy Berry, Maintenance OPS
Manager of Arizona Department of Transportation (ADOT) answers questions about his presentation as part of
his certification training. ADOT has been the longest user
of the WSP™ Inventory in Arizona, marking more than
20 successful years of use through its Human Resource Development Center (HRDC) Department.
Certifications & Training
Learn how to use our products and processes
to meet your workplace needs
The McFletcher Corporation's lifetime work is to equip to create aligned and productive work environments. We help clients envision and become a workplace where the workforce and the work are in sync, meeting the needs of an organization in fulfilling its market requirements and performance goals.
Through certifications, on-site learning transfer, presentations and behind-the-scenes coaching, we prepare clients to use our alignment products, processes and research to accomplish their objectives. Along the way, we help clients determine what to apply, when, how and to whom. Our goal is to maximize the client's capabilities while honoring their values and supporting their people.
WSP™ Inventory Facilitator Certification prepares participants to administer, score and interpret WSP™ Inventories. Through training exercises, case studies and lively discussions, participants practice how to communicate the experience and benefits of the WSP™ process and to plan how to generate results for their organizations.
The WorkStyle Patterns® (WSP™) Inventories are self-assessed measurement tools and communication vehicles that help organizations create change leading to increased productivity and employee satisfaction. The WSP™ Inventories provide a unique opportunity to reach beyond the content of work and measure the approach to work through analyzing specific work activities and providing 29 unique WorkStyle Profiles.
Once a certified WSP™ Facilitator begins to use WSP™ Inventories, McFletcher assists with cultural audits and organizational change consulting through its WorkStyle Patterns® (WSP™) Database.
The WSP™ Database analytics offer metrics for organizational assessment and identifies where alignment and misalignment exist. Pre- and post-comparisons measure progress in closing the gaps. WSP™ research also helps organizations evaluate trends including comparisons between professions and within specific industries.
To ensure continued validity of the WSP™ Inventories, and the WorkStyle Patterns® Workplace / Workforce Research, McFletcher requires that at least one organization member complete WSP™ Facilitator Certification prior to purchasing the WSP™ Inventories and their companion products. Interested organization representatives may view program schedules and fees online.
As the structural shifts in today's North American organizations accelerate, new work requirements emerge, stretching a company's resources and training efficiencies. The McFletcher Corporation's WorkStyle Patterns® (WSP™) Work Design Process assists today's organization in assessing the needs both of what the work is and how it needs to be done so that the organization can prepare for and implement needed adjustments in WorkStyle.
Effective team members understand their mission and their roles in contributing to the team's accomplishments. WSP™ Team Inventories align team members' WorkStyle Preferences to the Team Role and Member Assignments.
The alignment process provides clarity within a single team and between multiple teams. The process also increases productivity while creating a team-building opportunity for start-up and existing teams and assists team leaders in facilitating the team according to its mission and team members' WorkStyle preferences. We also offer customized Teaming By Design workshops and our book, Teaming by Design.
Too many organizations "Hire for Skills and Fire for Fit." The WorkStyle Patterns® (WSP™) hiring and selection process provides the "fit" aspects of the work. It enables organizations to "Hire for Skills AND Fit." McFletcher trains client representatives to use the McFletcher products and selection methodology combined with other skills, knowledge and experience assessments.
McFletcher's Work Alignment Dialog sessions clarify the critical issue of preparing your workforce to internalize shared work principles and accountabilities that also orient individual work contributions. Our Work Alignment Framework is referenced as a discussion model for the shifting structures and roles. It too will shift and evolve throughout the global workplace changes. The value and benefits of Work Alignment come alive through our shared stories and insights. We invite you to join the dialog – to visit and interact virtually and gain encouragement for how you can, through Work Alignment, realize the promise of work for lasting value.
Line employees can no longer passively accept orders from above. Instead, they are expected to not only complete their individual work, but participate in, and at times facilitate, group activities and projects. The Facilitation and Group Management Training and Skill Development Programs prepare them for the tasks of guiding a group toward success.
---
Contact us with your needs or questions:
mcfletcher@mcfletcher.com
(480) 991-9497 (US phone number)