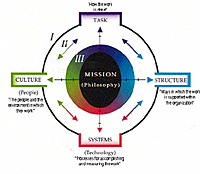 Organizational Development Approach Scale™ (ODAS™) Assessment: Clients explore their organizations' current and future ability to support its mission by measuring the condition of Task, Culture, Structure and Systems along a continuum of controllable and uncontrollable influences.

(Click on the graphic to enlarge it.)
Solutions and Processes
Process for Solutions
Hire the right people. Develop record-breaking teams. Retain a competitive workforce. Increase productivity. Align your work culture.
Since its inception, The McFletcher Corporation has specialized in custom-designed Organization and Work Alignment solutions. These solutions include external alignment of the organization's resources to better meet market requirements for its goods and services.
When faced with the need to organize or reorganize the work, where does an organization begin? A Framework to Uphold the Promise of Work – the process McFletcher has shared with hundreds of organizations since 1974 – is a practical guide toward strategies for a successful and smart future.
Teaming by Design is McFletcher's customized team system, created for each organization to shape its teaming structure. This system incorporates a process flow for teamwork. It identifies when to use teams to accomplish work, and when to consider a broader approach to teaming through collaborative sharing across the organization.
WorkStyle Work Design enables team members to clarify accountabilities, design work activities, and create team-based hiring processes, interview questions and selection criteria. The process includes a learning transfer-based handbook in which a McFletcher consultant works with the organization's internal Work Design team. This team serves as the pilot group for the organization and is then certified to teach the process to other groups or functions.
Career Systems Process is conducted in a consulting mode through learning transfer. Coordination with other resources internally and externally enable a systems approach to the career project. This includes:
Demonstration of training applications through prototype programs.
Linkages with the appropriate organizational functions.
Integration with other appropriate career materials and services.
Designing for Culturally Diverse Environments
has become a critical need for today's organizations. With any working environment, a balanced culture can be developed which proves to be stronger, more flexible and better able to help the organization reach its goals. McFletcher helps organizations accomplish this by identifying, integrating and balancing the core elements of the respective cultures in a conscious and structured alignment process.
Organizational Design for Change Management was developed to assist organizations in smooth transitions to new or restructured work environments. Change has been a part of life since creation and will continue to be a dynamic that impacts how work is to be performed and managed.
With the swiftly moving events of recent years, change is a common occurrence. Organizations are more frequently "out of sync" with market demands and often experience painful and costly consequences unless they adjust quickly to market needs.
---
Contact us with your needs or questions:
mcfletcher@mcfletcher.com
(480) 991-9497 (US phone number)